Expropriate according to climate law! | Discussion Event on August 29 at Refugio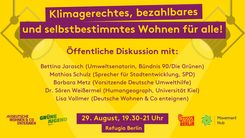 Your rent was increased after an expensive energy modernization? Are you afraid that you will no longer be able to pay your utility bills because of rising energy prices? Are you worried about the climate crisis?
The building sector is a decisive factor in the fight against climate change: throughout Germany, 35% of final energy is consumed there and 30% of CO2 emissions are caused.
We want affordable rents and climate-friendly housing for everyone! The socialization of housing can make this possible: through public ownership and the co-determination of tenants, it is possible to implement energetic renovation in 240,000 Berlin housing units in a sensible and socially acceptable way. We want to discuss this together with experts from urban research and climate and environmental protection.
Deutsche Wohnen & Co. Expropriate, Jusos Berlin & Grüne Jugend Berlin invite to a panel discussion on August 29 from 19:30 to 21:00 in Refugio Berlin (Lenaustraße 3-4, 12047 Berlin).
Bettina Jarasch (Senator for the Environment, Bündnis 90/ Die Grünen), Mathias Schulz (Spokesperson for Urban Development Policy of the SPD in the Berlin House of Representatives), Barbara Metz (Chairwoman of Deutsche Umwelthilfe), Dr. Sören Weißermel (Human Geographer, University of Kiel) and Lisa Vollmer (Deutsche Wohnen & Co expropriate) will discuss.
Admission is free!