14.10.
Eine Küche für Alle – Fundraiser for DWE
16:00 | Bilgisaray, Oranienstr. 45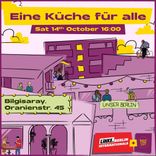 Save the date! Saturday, 14 October, R2C x Linke Internationals organize a Küfa & entertainment at Bilgisaray
We will be accepting donations for the @dw_enteignen crowdfunding campaign to take back Berlin through a legally binding referendum
What is a Küfa? Küche für alle ("kitchen for everybody") – a community based bulk cooking, for a small donation, which contribute to a specific political or social project.
Soon we will announce other activities happening throughout the day. Let's hang out, eat yummy food and trash on corporate landlords. Join us!


More infos will be posted here.