6.10.
Cheer Jam - Movement & creative exchange
13:00 | Studio 12, Uferstudios, U Pankstraße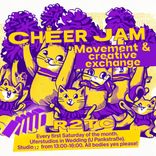 Cheer! Cheer! Cheer!
The Cheerleading Team of Deutsche Wohnen Enteignen invites YOU! We started a regular meetup every first Saturday of the month, 15:00-18:00 at Uferstudios (Studio 11) in Wedding (U8 Pankstraße), to put the (physically) active in activism. In the first one in September we did some choreography, had a brainstorming about who to cooperate with, and did Rave Fitness (which was INTENSE!) while our amazing Grace provided live tunes :). All this in a very spacious and beautiful studio, while Grace's dog Heike was cheering us up - lying on her bed like the empress that she is, giving us judgmental looks.
What?! WHY?
We started the monthly meetup not only to sweat together, but also to bring people + collectives together and curate a big meta-multi-inter-transdisciplinary performance. The performance is our idea for a general creative push, and to support the next step of Deutsche Wohnen Enteignen. We also just wanted to provide a regular meeting to practice cheering! Cause we are what? Excited!
Who are you?
We are a performing force within the working group Right to the City of the campaign Deutsche Wohnen & Co. Enteignen. Our group is formed mostly by people with migration background and we are working to address the discrimination in the housing market and to reverse the democratic deficit of the city (1 in 5 Berliners have no voting rights). We fight for voting rights and build creative paths of political engagement while supporting the main campaign (DWE). We have this incredibly energetic way to engage which is through a cheerleading squad. Our chants and dances bring cheeky, fun and extremely positive energy to political processes, making them look simple as shaking our pompons to "1, 2, 3".
Activity level or skills needed?
No prior skills needed at all. We love newcomers. We have had the feedback that our cheering seems very professional and therefore not so accessible at times, but we want to stress that we welcome everyone: cheering is for everyone, and we will not push you to perform in public with us if that is not what you want.
We often say that "WE PERFORM AT EVERY LEVEL", meaning that we create political content which is at the same time artistic and socially engaging, but also that whatever your body lets you perform is welcome. What you are willing to bring forward is much appreciated and will feed our collective energy.